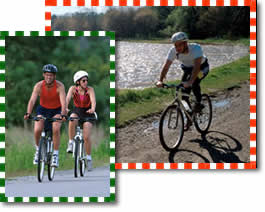 Zion National Park Mountain Biking:

If you are visiting the Zion National Park area to do some mountain biking, you can expect some of the best terrain that mother nature has to offer. While hiking trails within the park are off-limits to bicycles there are many rides just outside of Zion Canyon's borders that offer spectacular scenery as well as the opportunity to crank your pedals to your hearts content. You may consider one of the following rides as options while you enjoy your stay at Zion Ponderosa Ranch Resort.

Grafton:
A perfect family ride is the Grafton trail four miles west of Springdale. This is an easy 2 hour ride that covers 1.8 miles of paved road and another 5.2 miles on a maintained dirt road. This is a great scenic ride to an abandoned ghost town that once served as the movie set for Butch Cassidy and the Sundance Kid. You and your family will enjoy exploring the old buildings and cemetery. The road is accessed on the east end of Rockville (four miles from Springdale). You will begin by riding south on the paved Bridge Road and will cross the steel bridge spanning the Virgin River. The paved road end and you will follow a dirt road to the town. Be sure to watch for cars along the road.

Gooseberry Mesa:
This is a moderately difficult ride with some technical slickrock. The trail is an 11 mile loop which follows the 1,000 foot rim of Gooseberry Mesa, providing spectacular views into Zion National Park and across scenic southern Utah. The several patches of slickrock provide fun opportunities for beginners and advanced riders alike. If you are just beginning the sport of mountain biking you may wish to walk your bike across some of the more technical portions of the trail.

Navajo Lake Ride:
Navajo Lake is a pristine mountain lake located in a forest of aspen and pine 10,000 feet above sea level. We shuttle guests to the lake where they can spend time riding the groomed trails around the lake, as well as fishing, canoeing, or swimming. The 29 mile, 3500 foot descent back to the resort will be a highlight of your vacation.